local and destination weddings in NV, CA, CO, UT, AZ
we support wedding equality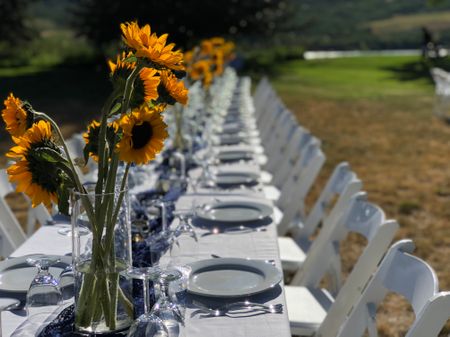 THE  KNOT  BEST  OF  WEDDINGS  2021
Planning
Picking the Right Vendors
Staying Under Budget
Creating a Customized Timeline
Design
Decor
Fresh Creative Ideas
Personal Touches
Coordination
Day-Of Event Management
Vendor Point of Contact
Supervision of Load-in/Load-out
your day, your way, our talent
We will save you time, money and stress! We understand the importance of your valuable time, your peace of mind, and your budget, when it comes to your day.
We will treat you like a person, not a number! We absolutely love our clients! Our personalized custom service gives you everything you need to make your event a success, your way.
We will help you handle it all! We have tremendous depth of experience in a wide variety of subjects and know how to make it work for you - that is our talent!
just ask our couples
This is a photo of a bulletin board that hangs in our office. As you can see it holds actual thank you notes from some of our couples. You might see a vendor note in there, too. Zoom in (if you like) to read their thoughts. Their kind words are so much more eloquent than anything we could ever say about ourselves! Big love to all of our couples for letting us share your special day!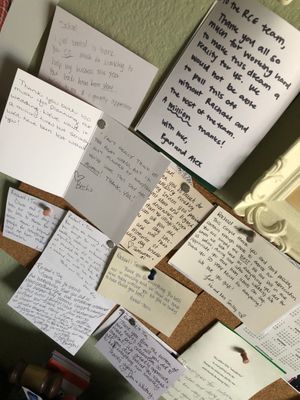 what else do people say about Rachael's Custom Events ?
Wedding Angels - "Rachael and Tim Johnson were incredible!!! ... You can FEEL how much they truly care about helping you to create the wedding day that reflects what's important to you as a couple." Lydia & Aaron - Married 9/15/18
Harry Potter Wedding - "If you're looking to hire a wedding planner, please do not look any further. Rachael and Tim are the most professional yet down-to-earth people. They made sure every step in the planning process was easy and stress free. Each decision was made with sincerity and grace. I can't say enough about these two wonderful people. We will never forget our magical day!" Lyndi & Matt - Married 9/28/19
"AMAZING!!! We had an absolutely phenomenal experience with Rachael & Tim. We worked with them for 6 months, planning our Vegas wedding remotely (we're from MN), and it was a blast! ... We had the best day of our lives, and it's all thanks to Rachael and Tim. Seriously, can't recommend Rachael's Custom Events highly enough!" Echo & Ben Married 8/4/18
"We held a 4 day event in Eden, Utah. It was Thursday evening thru Sunday morning with 110 guests in attendance. The entire weekend went amazingly smooth and we owe so much of that to Tim & Rachael. ... They helped design the whole theme, the reception, center pieces, table set ups... They helped us find vendors. They clearly have a ton of experience with weddings and thought of things we would have completely missed. I would recommend them to anyone planning a wedding who needs someone in their corner. Thank you so much Rachael and Tim. It was the wedding of our dreams and we never could have done it without you. You're the best!" Eric & Josephine - Married 6/30/18
"I am from Texas and was trying to plan a Vegas bachelorette party for my best friend. After saving a million pins (on Pinterest) of how I wanted the suite decorated I realized there was NO WAY I'd be able to get all the balloons and decor onto the plane so I decided to hire Rachael. Thank GOODNESS I did! she is absolutely amazing! I highly recommend her. She went way-way above and beyond my expectations. She should have charged me more!! ... Hire her. You won't be let down." Alexandra - September 2017
Rachael and Tim, you guys are amazing! - "From the very beginning, Rachael and Tim made us feel like we were the only wedding that they were working. They treated us like family. Their attention to detail is what made my daughter's wedding come together so perfectly. ... Rachael even set up a "kids table" with gift bags for each child. Each bag had the child's name on it and had age appropriate snacks and toys inside. The kids loved their bags and the parents were amazed at the thought put into it. ...Rachael and Tim took the worry out of what is often a hectic day for a Mother of The Bride. They truly are the best at what they do!" Suzi - mother of the bride for Kenna & Gavin - Married 5/17/19
our mission statement
be inclusive
over-deliver
always be courteous
think out of the box
no cookie cutter anything
one last thing...
We are a husband and wife team that believes in marriage. We have been happily married for 36 years. We support Love and couples in love, no matter who you are. If you need someone who has your back, we would love to hear from you! Call, text, or e-mail and share your vision. How can we help?