At Any Given Wedding...
Notes from a real-life wedding planner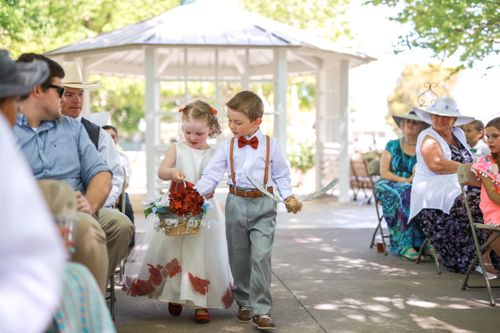 Why do I need a wedding planner?
At any given wedding there might be hundreds of details. There might only be a few (…yeah, right - only a few - that's pretty funny) At the very least, there is typically the couple (of course), an officiant, some vows, and a witness. Legal requirements differ from state to state. At the very most, the sky (or the budget) is the limit. As a couple, do you want to elope to Las Vegas? Or maybe 300 guests in a mountain resort? Do you want a four camera video shoot? Or perhaps something else? No matter which direction you choose, there will be decisions to be made, things to be handled, stuff to be ordered, food to be tasted, clothes to try on, … you get the idea. So, where do you start? (Start with a wedding planner, of course.)
We are here to shed some light onto various behind the scenes aspects of wedding and event planning. We think that an informed couple makes better decisions (and boy, have we got some information for you!). Without naming names or companies, we want to share our stories from the wedding trenches in the hopes that you will learn something useful that you didn't know. For example, how do you choose a photographer? Sure, you love the pictures on their site, and the reviews are all 5 stars. BUT, how are they under fire? Can they capture your moments quietly, quickly, and discreetly, or do they interrupt your wedding and reception to stage their shots according to their timeline? What are the right questions to ask? How do you avoid a crisis? (See? You need a wedding planner. Seriously.)
In this blog, we will have some fun sharing actual examples of CRAZY stuff that happens at weddings. We think that you will enjoy seeing examples of what NOT to do as well as a few things you might want to try. Our hope is that in addition to providing great information, we can show you what a wedding planner's job REALLY looks like (Trust me, it's NOT like J-Lo in the movie) and why we think every couple needs a wedding planner! So, here's our first topic...
What Does a Wedding Planner Do? (A.k.a. "Why You Need Help")
You want your wedding to go smoothly. Unfortunately, you will be pretty busy that day and can't really make sure that the reception room is set, or the DJ is on time, or take calls from the caterer. You also are taking on some extra hours at work right now to help pay for your honeymoon and have zero time to log on and check out venues, or find an Elvis officiant. This is exactly where your wedding planner fits in. You need other players on your team that have the professional experience and knowledge that you lack.
There are two parts to any event – the planning and the implementation. When there are lots of elements, the complexity increases exponentially for both parts. One of the most common mistakes we see is a couple trying to take on too much because they just don't realize how quickly it gets overwhelming. It takes a LONG TIME to stuff 150 tiny cloth bags with M&Ms. Do the math – even at one minute per bag – which in reality it will be waaaay longer – you are at 150 minutes = 2.5 hours. Do you really want to spend 2 – 4 hours stuffing gift bags? Did you EVER think it would take that long? And that is just the gift bags. What about all those cute little DIY vases and flowers and ribbons? And the personalized name tags for the tables? See, it starts to become too much without even trying too hard. And then your sister-in-law-to-be wants to "help" be your "planner" even though she has NO experience and inserts her opinion about everything and starts arguing with your soon-to-be-auntie and suddenly your guest count goes from 75 to 140 with invitees you don't even know (true story) and the whole thing isn't even close to what you really want. (insert sad face emoji here)
The biggest thing your wedding planner can (and should) do for you is help you navigate through the planning to your successfully implemented event. That looks different for every couple. For some it is research heavy – the planning side. For some it is more "day-of" management – the implementation side. For most couples it is both. The best weddings we have seen are those where we are closely involved with the couple early in the process, and help them with their choices regarding all resources (venue, vendors, entertainment, etc…). It really is beneficial to establish and maintain open communication with everyone involved. Invariably, when a couple comes to us and already has hired vendors, there are issues. The biggest problem we see is that most couples don't know what questions to ask their prospective vendors and then something doesn't turn out like expected. Your selected wedding planner should be able to help with negotiations and also have a good idea of the market and pricing. They can be a huge help in the decision-making process. (Think of it this way – the really nice person you met at the really nice hotel seems really nice, and says they will help you. BUT…they work for the venue. They will say whatever they can to get you to sign their contract. We wedding planners work for you.) A good wedding planner has a preferred vendor list, which gives you peace of mind that your event will go smoothly. (Or put another way, if a vendor is on our preferred list, there is a good reason for it.) The contacts and resources that become available when working with a wedding planner can be quite valuable – both from a financial and a mental health aspect. Working closely with your planner helps in the execution of your event as well. A smooth wedding doesn't just happen by itself. It is a team effort from a whole lot of people. Chances are, your wedding will have multiple vendors that all require communication and coordination. Even our couples that like to DIY appreciate an extra set of eyes, ears, hands, etc. You can trust a great planner to tie everyone and everything together and carry out your vision, while you enjoy the moments.
That's about it for our first blog post. In future posts, we will be writing about anything and everything wedding. Some of our first topics will include: Dinner - buffet vs. plated, Great ways to trim your budget, Easy décor ideas, Latest trends, How to survive Destination weddings, (How to roll out and set a new table in 5 minutes, when the guest count goes up by 10 people at the last second, without drawing attention to it), and a whole lot more! Let us know if there are subjects you would like to hear about.
Think happy, be happy,
Rachael (and Tim)
How to Avoid Stress When Your Families Meet For The First Time At Your Wedding
Bringing your families together for the first time at your wedding doesn't have to be stressful. Here are some tips to help with your new in-laws.
Have a great attitude going in.
Be respectful of any family traditions (religious and non-religious).
Create opportunities for families to get together and have some fun BEFORE the wedding day. A rehearsal dinner is a great place to start, but it can be anything that puts everyone in the same room together. It doesn't have to be fancy. In fact casual is usually better. Some couples plan a whole "wedding weekend" of events for their guests so everyone can get to know everyone else. A little familiarity goes a long way at the actual ceremony and reception.
A growing trend is to allow open seating and not choose a side for the ceremony. This sends a great message about inclusivity and openness.
Alternately seat members of your two families at the same table (or tables) at the reception.
Serve dinner buffet style so guests aren't stuck to their table all night.
Hiring the right professionals for your team is an excellent step in the right direction. A great wedding planner will alleviate the stress and anxiety so you can enjoy your big day. They will also have ideas and suggestions to fit your families, and make the whole experience more fun.